Fallen Devil Walker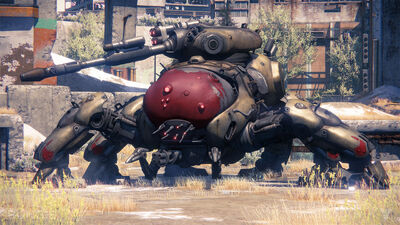 Information
The Devil Walker is the large tank-analogue of Destiny, and is armed and armored with a large cannon and heavy armor. It pays for these traits by having a very slow turning speed, and relatively slow movement. The vehicle has been seen in various promotional materials, but before the E3 2013 reveal, fans simply referred to them as "Spider Tanks" due to their legs having arachnid properties.
Though it has slow movement speed, the Devil Walker can be quickly deployed into combat from the belly on a Fallen Dropship.
Offensive Capabilities
The Devil Walker is heavily armed and armored, making it a formidable but slow offensive weapon. It's main large cannon fires high-explosive rounds at relatively slow rate (has to charge before firing); despite this slow rate of fire, its secondary weapon (plasma cannon) and tertiary weapon (under-slung plasma cannon) create a strong offensive front that is nearly unmatched.
In Building the Destiny E3 Reveal -- Bungie Commentary, the following weapons were listed for the Devil Walker:
-Main Cannon
-Nose Gun
-EMP Shock
-Heavy Machine Gun (Could be the same as "Nose Gun")
-Rockets
-Shanks: These small drones look serve as distractions as they haven't been shown to have much health or offensive capabilities.
Weaknesses
The Devil Walker may be formidable, but it has several weaknesses inherent to its design. Because the Devil Walkers move slowly and rely on the rotation of its weapons for versatility, it is easy to target with explosive anti-tank rounds. Additionally, its joints are exposed by the armoring it wears, allowing players to temporarily immobilize the Walker. The armor on its legs, though strong, can be blasted off of the vehicle with concentrated fire, revealing its glowing orange engine, which is then vulnerable to heavy fire.