The Fallen are one of the enemy races in Destiny which the Guardians must face off against.
Summary
The Fallen, also known as spider pirates, are one of the enemy factions in the Destiny universe. The Fallen were presented during the E3 Gameplay Reveal, and have been displayed on the official Destiny webpage and Youtube channel in various videos and images. Their reasons for engaging in combat with the humans and for engaging the Traveler is unknown, but it has been theorized that this aggression is the natural result of influence from The Darkness.
Theories
According to one fan theory, where the Traveler is the true villain of Destiny, the various enemy races, including The Fallen, are engaging humanity because they essentially function as the private army of The Traveler.
Fallen Notables
Fallen Ranks
Shanks are little flying robot scouts for the Fallen. They are weak both defensively and offensively but are frequently assisted by ranks of the Fallen. They are also launched by the Devil Walker.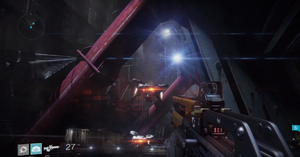 Dregs are the lowest class of Fallen and are normally found in large groups along with a Captain. They typically carry shock-daggers and pistols. They do not appear to have much armor equipped. They are, as their namesake says, the Dregs of Fallen society, and as punishment have had two of their arms chopped off and forced to fight as cannon fodder.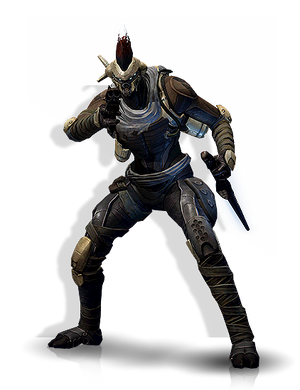 "The truths about the Fallen chain-of-command are still making themselves known, but Vandals appear to hold a higher ranking than the Dregs, and deadlier weapons, too. They often have long range capability, but, lucky for us, their weapons take time to charge." - Bungie Site (Our Enemies)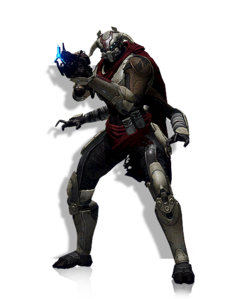 A Fallen Captain is equipped with "hulking armor, long capes, and energy shields." (Game Informer Issue 249 pg. 55)
"Fallen run in packs, led by an individual Captain. There is no denying a Captain's might; they are the fiercest of the Fallen. There is this sense of tattered nobility to them. You can see it in the way they carry themselves. They think they're better than us. They believe that Earth belongs to them."
A confirmed Captain rank Fallen is Rixis.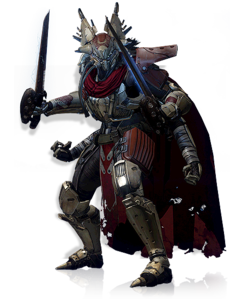 Race Relationships
Cabal
Nothing currently is known about the relationship between the two races.
Hive
The fallen are supposedly at war with the hive (see the devil's lair game play trailer) and when one of the guardians deployed their ghost it said "fallen and hive, be careful to not get stuck in the cross fire." this took place on earth but they were also seen on The Moon.
Vex
Little is currently known about the relationship between the two races, though Vex and Fallen troops have been seen working together to combat Guardians. The House of Winter is currently in conflict with the Vex on Venus.