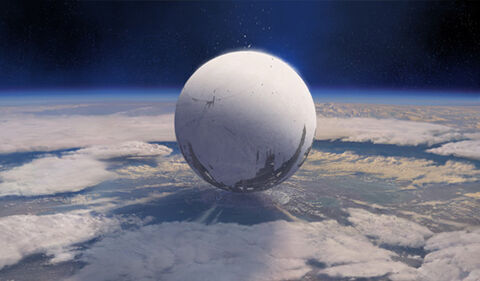 The Traveler is a massive story element in the world of Destiny.
The Guardians
The Traveler had done more than its sacrifice suggested, however; it was soon discovered that The Traveler granted powers to a chosen few known as the Guardians. These empowered humans were granted special abilities and talents to combat the rising tide of evil and danger which had been brought by The Darkness. In its last act before being broken nearly to the point of death, it also created the Ghosts, personal artificial intelligence companions to the Guardians, meant to guide and inform them in their battle against evil. The Guardians now reside in the Tower as they launch missions into treacherous territories in order to reclaim what has been lost to the Darkness and its servants.
History
The Traveler's origins are unknown. When it arrived, humanity first discovered it on Mars. It sparked a Golden Age of humanity that allowed humans to migrate from Earth to colonize other planets within the Solar System. Some speculate that the Traveler is a large vessel; others that it is a sentient being or artificial intelligence and some may even consider it a deity, but as of yet its true nature is unknown.
The Traveler is credited with humanity's survival during the Collapse of the Golden Age. After the Traveler sacrificed itself to save humanity, it remained in low orbit over the Earth. The City was built in its shadow and under its protection, where its inhabitants are temporarily safe from the threat of the Darkness.
A removed story piece of the old 2013 beta would have revealed that the Speaker and the Traveler were not to be trusted and that the Traveler was actually "THE DARKNESS." The one you fought for is the one who caused The Collapse and the players are dead soldiers made to fight for evil. However, this was later removed for unknown reasons.