The City Tower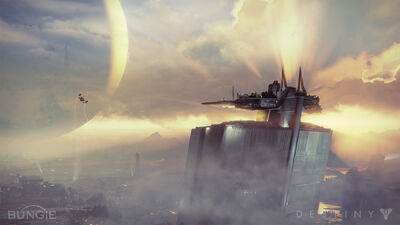 Location Info
The Tower is a significant place in the lore of the Guardians, and serves as the central communal and social hub for most of Destiny.
Summary
After the Collapse of the Golden Age of Humanity, the last vestiges of humankind found refuge in the City, a ramshackle city built underneath the now dormant Traveler. As the Guardians awoke to their awesome powers and were joined by the Ghosts, the Tower was constructed as a home for the gifted warriors. Here, Guardians can rest, heal, and arm themselves; likewise, they can commune with other guardians, take on missions, purchase new gear, and repair their ships. The Tower also features class specific areas and trainers who can sell specific class gear and talents, and can train and upgrade your class skills.
Interestingly, the Tower is the only location in Destiny where the player is put in a third person mode without their helmet equipped. This is meant to allow bonds to form, engaging users in social events and friendly banter.
Characteristics
The Tower is the tallest structure within the City; the area around the tower is known as the Overwatch District.
Speaker
The Speaker is considered the spokesman for the now dormant Traveler. He sits upon the Tower, giving general orders and wisdom in the war against The Darkness.
Gallery